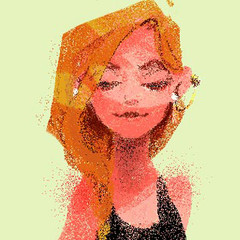 Anaïs Marmonier
Concept Artist on "101 dalmatians street"
Lille, France
Summary
Hi! I'm Anaïs Marmonier, working in the Animation Industry since 2015.
My leitmotiv is to bring innocent forms with magical allegories
to the service of powerful and modern stories...
...And I also simply love working on everything that can inspire a colorful project :)
//ILLUSTRATION
//CONCEPT ART
//VISUAL DEVELOPMENT
Recent works:
// Currently freelance CONCEPT DESIGNER on "101 DALMATIANS STREET"
// 2017/2018 : Concept Designer on Abraca, ANKAMA
// 2017 : Freelance concept art and vis dev works for an Animated Feature Movie project and TV SHOW project
//2016 : Freelance Development Art for a Disney Heritage Project with THE WALT DISNEY COMPANY EMEA
//2016-2017 CARIBARA : Tree house stories Season 1&2 - TV SHOW based on child books - puppet animation designer - background artist, France
//2015-2016 CARTOON-NETWORK-AMAZONE : Illustrator, concept artist on a clip and TV show project, Thailand
// 2015 - Graduated - "Visa Accredited Diploma speciality Concept and Illustrations" from School Emile Cohl, France.
Skills
Concept Art
Digital Painting
Illustration
Character Design
photoshop
Visual Development
Book Cover Illustration
illustrator
background
pastel
toonboom harmony
color exploration
childbook
Software proficiency
Experience
Freelance Concept Designer/ Background Designer on "101 DALMATIANS STREET" at Passion Pictures

Concept Designer at Ankama

ROUBAIX, France

September 2017 - September 2018

ToonBoom Harmony 2 weeks Traineeship at Canopea

Paris, France

January 2017 - January 2017

Illustrator, concept artist on a clip and TV show project at CARTOON-NETWORK-AMAZONE

Thailand

October 2015 - January 2016

Development Art for a Disney Heritage Project at THE WALT DISNEY COMPANY EMEA

August 2016 - October 2016